Capt. Ed Davidson is a well known Environmentalist for the Florida Keys.  He is Chairman Emeritus of the 40,000 member Florida Audubon Society, a former National Park tour operator and environmental educator, an international eco-tourism consultant, and an eco-political advisor and activist involved extensively in the 20 billion dollar South Florida Everglades Ecosystem Restoration project.

Capt Ed often utilizes the Land & Sea Trust Preserve for environmental education and eco-tourism activities.  The Preserve is a 63.5 acre site that contains a Museum of Natural History, woodland nature paths, and a shoreline snorkeling trail.  Enjoy the storied narrative of the geologic, biologic, hydrologic, and cultural history of South Florida, the Everglades, Florida Bay, and of course, the Florida Keys.  Learn how God used to do it, how we've messed it up, and how today's youth will need to get involved to save what's left, and fix what has been broken.
The museum and nature trail tour, narrated by Capt Ed, takes about 3.5 hrs @ $55.00 a person.  If you'd like to add a snorkeling excursion after the guided museum and nature trail tour the additional cost is $55.00 a person.  Multiple-day programs can be planned with additional activities, and economical accommodations can be arranged for up to 25 people @ $50.00 per person per night in a private, gated Bed & Breakfast compound in efficiency apartments which include kitchens and washer/dryers.


So if you are interested in hearing the very latest in comprehensive ecosystem restoration and adaptive management concepts being developed for the south-east coastline, the Everglades, Florida Bay, and the Florida Keys and reefs, plus information on the Natural History of the Florida Keys, its ecosystems, plants, and wildlife, then Capt Ed is the tour guide you want!
Remember!  Adult, Middle School, High School, and College environmental field trip programs covering a broad range of subjects are available including overnight accommodations for students 

@ $50.00 per night.

For additional Information please contact the Captain himself toll free

 1-866-743-6054  days & nights

Eco-Tour by Capt. Ed Davidson for former President Jimmy Carter, First Lady Rosalyn Carter, and their extended family.

Former Eco-Tour Operations

Letter 1:  'Thank You' letter from former President Jimmy Carter for Eco-Tour of Land and Sea Trust Preserve from Capt. Ed Davidson.

Letter 2:  'Environmental Hero Award' recognition letter to Capt. Ed Davidson from former Vice President Al Gore.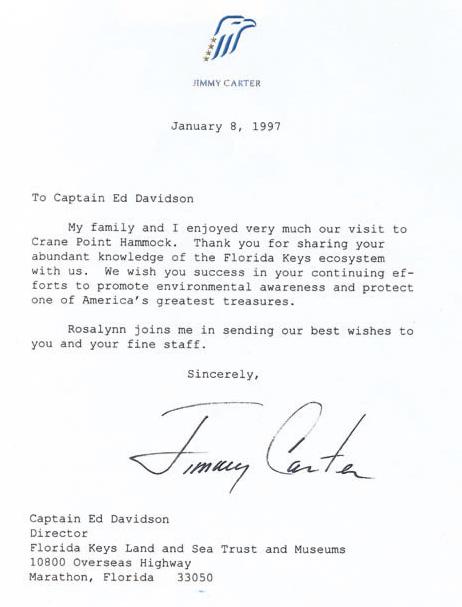 Click Once to Load Next Image

10800 Overseas Hwy. Marathon, FL. Keys 33050

+1 (305) 743-6054  or Toll Free  +1 (866) 743-6054