Capt. Ed Davidson, the Inn Keeper of Discount Divers Bed and Breakfast efficiency apartments, was formerly known as Navy Lt Commander "Engine Eddie", holder of 22 combat decorations awarded for becoming the 33rd aviator to survive more than 200 combat missions in the skies over Vietnam, Laos, Thailand, and Cambodia while piloting his Mach 2 rated F4 Phantom II.

     Lt Cdr "Engine Eddie" was dodging clusters of exploding surface-to-air SAM missiles while flying fighter escort nearby when Senator John McCain was shot down by one of them over Hanoi and taken prisoner of war as recounted in Lt Cdr Davidson's 366 page combat fighter pilot Memoirs "The Warrior's Burden".
     After his 297th aircraft carrier landing in the Tonkin Gulf, Capt Ed was sent to Key West as a "Top Gun" type combat flight instructor and began scuba diving with some of his Navy Seal and Green Beret buddies there.  He now lives on site in his laid back Bed and Breakfast vacation apartment compound in the Florida Keys, where he will always be happy to talk about missiles, bombs, aerial MIG dog fights, and anything that flies without flapping.

At Left:  "Yankee Air Pirates" 

Background: Crew climbing into fully armed F4 Phantom II on the flight deck of Attack Aircraft Carrier USS Constellation, Tonkin Gulf/SouthChina Sea/Vietnam.

Foreground:  Lt "Engine Eddie" Davidson, center, with .357 magnum cross-shoulder bullet bandoleer with squadron mates from Navy Fighter Squadron VF 143, the Legendary "Puking Dogs".

Above:  Ex-Marine, now Navy Lt "Engine Eddie" Davidson next to his F4 Phantom II.

Left to Right (Above):  AIM 9 "Side Winder" infra-red heat seeking missle; yellow-banded, folding fin "Snake Eye" 500 pound iron bombs with "daisy-cutter" nose fuses.

Above: This was the mission on which Senator John McCain was hit and shot down by a surface to air missile Capt Ed had just dodged himself.

To find out more about Capt Ed's Top Gun Memoirs that chronicle the pilot poet's Journey from the flak-filled skies over Vietnam to the sun-washed beaches of the Florida Keys, while meeting three United States Presidents along the way, click here!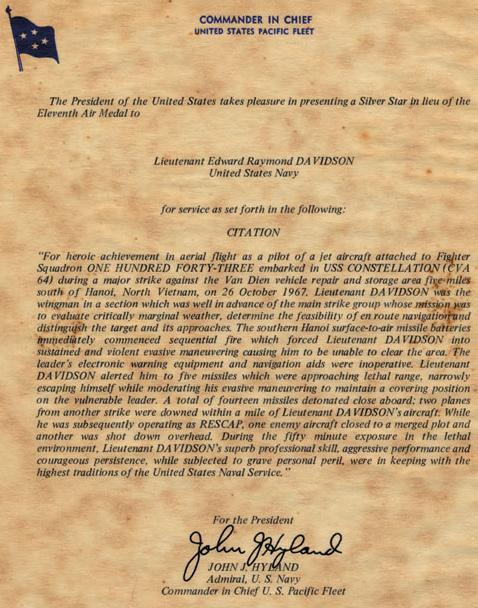 Click Once to Load Next Image

+1 (305) 743-6054  or Toll Free  +1 (866) 743-6054

10800 Overseas Hwy. Marathon, FL. Keys 33050